China - Another Adventure Begins – March 25, 2013
你好(Ni hao) Pronounced Nee how, – (Chinese for Hello)
Once again we find ourselves in the Delta Crown Room at the Orlando Airport drinking Bloody Mary's and munching on snacks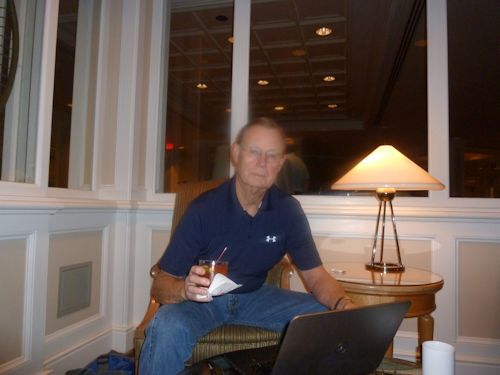 as we kill time awaiting to board our 3 hour flight to Detroit followed by a 15 hour direct flight to Shanghai, arriving at 4:00 pm tomorrow. This is where our next adventure begins as we continue to whittle off places in Holly's book "1000 Places to See Before You Die." This past year we primarily did domestic travel including the Kentucky Derby, which is one of the 1000 places, has been on our bucket list for a long time, put out our mint julep low level light and a definite do again sometime in the future. We also did a 7 day Disney Cruise with our daughter, son-in-law and grandson, now we are back to more adventurous travel while we are still physically able.
We started our quest to see the "1,000 Places" in 2004 and since then have visited 35 different countries and 6 continents and haven't even scratched the surface of what there is to see and experience in this magnificent world. As in our previous international trips, we will be arriving in Shanghai early to acclimate before our actual tour begins. Delta has redesigned the seats in its Business Elite Class so they now recline completely flat with partitions on each side that separate you from the aisle and the seat next to you giving you more privacy and cutting down on the noise. So after we have some welcome aboard Champagne and a few glasses of wine we are planning on getting a good 6-7 hours' sleep and being ready to enjoy the nightlife along the Bund after we check in to the hotel. Shanghai time is exactly 12 hours ahead of EST. We will be in Shanghai for 4 days, then 11 days on a river boat on the Yangtze River, 2 days in Xian, home to the terra cotta warriors, on to Beijing for 4 days and concluding with 4 power shopping days in Hong Kong after an overnight stop in Guilin. Based on recommendations from reviews we have read written by other people who have taken this trip, we have abstained from Chinese food for the last 4 months so our taste buds are definitely ready for some Peking Duck or Chow Mein, however I am sure it wouldn't taste anything like the food we get from our local Chinese takeout.
As with our past trips we will be keeping a daily travelogue of our activities to help us organize our pictures and thoughts when we return home. Those of you who have seen the DVDs and books we put together after each trip understand the importance of the daily log. It will be obvious which e-mails I write and which e-mails Holly writes, mine are nonsensical while Holly's have "some redeeming social significance". Our e-mails represent our thoughts and observations at the time and in some cases any resemblance between our blog and fact may be purely coincidental. As always, if our e-mails start to get too boring please use the delete button or e-mail us and we will take you off the list. We have added some new e-mail recipients this trip. Please feel free to e-mail us with questions or comments at any time. We will probably have internet access most of the trip if our writings are not censored by the Chinese Government.
If all goes as planned, and if the driver I arranged over the internet to meet us is actually at the airport and speaks enough English to understand which hotel we want to go to, the next e-mail should be from the Pudong Shangri-la Hotel overlooking the Bund in Shanghai, China. Our Chinese is still pretty weak and not expected to improve much over the next three weeks. I am really looking forward to some great Chinese beer when we arrive in Shanghai, wait I think that might be an oxymoron.
As you begin to pay attention to your own stories and what they say about you, you will enter into the exciting process of becoming, as you should be, the author of your own life, the creator of your own possibilities.Mandy Aftel
Confucius say: "Man with one chopstick go hungry."

再见 (Zaijian) Pronounced Zai chin – (Chinese for Good – bye)
More to Follow
Tom & Holly