China: March 25 - April 16, 2013
Shanghai to Hong Kong by Air and River
This 23 -day odyssey explores China's cradle of culture with an epic 11-day Yangtze cruise between Chongqing and Nanjing.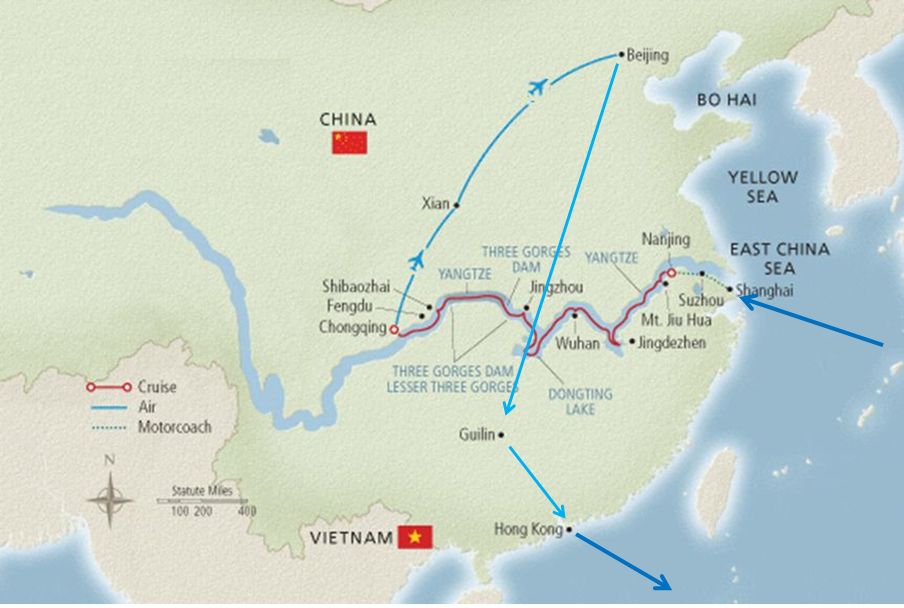 Seeing all the wonders of Shanghai, Xian and Beijing—Walk through Old Shanghai, See the Terra Cotta Army, Walk along The Great Wall, and Visit The Forbidden City. Uncover the roots of Chinese civilization from Jingdezhen, birthplace of porcelain; to Mt. Jiu Hua's remote Buddhist Temple complex; to Suzhou with its elegant classical gardens. Then on to Guilin, the most beautiful city in China and finishing with 4 power shopping days in Hong Kong
Itinerary
Day 1, Mar 25: Depart USA
Day 2, Mar 26: Shanghai (Hotel: Pudong Shangri-la)
Arrive Shanghai, China's largest city, then transfer to your hotel. Here, you can see the modern metropolis of the financial district juxtaposed with the older sections of the city.
Day 3, Mar 27: Shanghai
Acclimate and explore Shanghai on our own before the tour starts the next day.
Day 4, Mar 28 : Shanghai
This morning, tour Old Shanghai and the Bund, the city's elegant riverfront promenade lined with historic buildings. Visit the comprehensive Shanghai Museum to see some of its extensive collection of art and artifacts. After lunch, visit a silk carpet workshop for a demonstration of this ancient art. Dine in a local restaurant, then enjoy a performance of the famous Shanghai Acrobatic Troupe.
Day 5, Mar 29: Shanghai, Suzhou & Nanjing (Ship: Viking Emerald)
After breakfast, ride to Suzhou, nicknamed "Venice of the East" for its intricate canals. Take a guided walk through the Old Town and along the city's canals, and then tour a silk factory and the exquisite Fishermen's Garden. After lunch, ride to Nanjing to board your ship. You are welcomed aboard with a Western dinner.
Day 6, Mar 30: Mt. Jiu Hua
Marvel at the tranquil beauty of Mt. Jiu Hua, one of only four sacred Buddhist mountains. Visit one of the area's Buddhist temples, then return aboard for dinner.
Day 7, Mar 31: Jingdezhen
Today, visit the Ceramic History Museum in this city dubbed "the Porcelain Capital" due to its 1,700-year history of making pottery. Learn how ceramics were produced in ancient times and their significance to each dynasty. In modern times these pieces are virtually priceless—a rare copper-red Ming Dynasty vase recently sold at auction for more than $10 million. Dine aboard and sail overnight.
Day 8, Apr 1: Wuhan
After breakfast, stop in Wuhan, capital of Hubei Province. Tour the Hubei Provincial Museum to see its many ancient artifacts, including a large collection of bronze bells.
Day 9, Apr 2: Dongting Lake
Sail across Dongting Lake, China's second-largest freshwater lake. Stop for a visit to the 66-foot-high Yueyang Tower—built without a single nail—and its nearby pavilions, originally built during the Qing Dynasty. Cruise overnight.
Day 10, Apr 3: Jingzhou
This morning, visit a town where Viking River Cruises has sponsored a much-needed elementary school. Arrive to a warm greeting from the children. Return aboard for afternoon cruising and meals.
Day 11, Apr 4: Three Gorges Dam
This morning, disembark for a tour of the Three Gorges Dam, an immense hydroelectric engineering project completed in 2008. After your tour, return aboard and cruise through the dam's five-stage lock system. For the next 150 miles, you will cruise past the spectacular limestone cliffs known as the Three Gorges. First, sail through Xiling Gorge, the longest of the Three Gorges. Dinner aboard.
Day 12, Apr 5: Three Gorges & Lesser Three Gorges
This morning, cruise through Wu (Witches) Gorge, renowned for magnificent scenery. Then board smaller boats to the Lesser Three Gorges. Marvel at the hanging coffins of the Ba people and the ancient plank road carved into the cliffside. Return aboard for lunch, and spend the afternoon cruising through Qutang Gorge, the shortest and narrowest of the three larger gorges.
Day 13, Apr 6: Shibaozhai & Fengdu
This morning, climb the 99 stairs to the 12-story Shibaozhai Temple, an impressive example of Qing Dynasty architecture (c. 1650) set on the banks of the river. Lunch and dinner aboard, accompanied by scenic cruising along the Yangtze; dock in Fengdu this evening.
Day 14, Apr 7: Fengdu
Awaken this morning in Fengdu, a city dating back to the Han Dynasty. From here, embark on a tour of Snow Jade Cave, an underground labyrinth of caverns featuring dramatic karst limestone formations. Return to your ship for lunch and dinner and evening cruising.
Day 15, Apr 8: Chongqing & Xian (Hotel: Hilton Xian)
Disembark at Chongqing and fly to Xian, key city of the Tang Dynasty. From 618 to 907 A.D. this dynasty presided over one of China's most glorious cultural periods. This evening, you may choose to dine surrounded by the song and dance of this colorful era, or dine and relax at your hotel.
Day 16, Apr 9: Xian & Beijing (Hotel: The Regent Beijing)
After breakfast, tour the mausoleum where Emperor Qin Shi Huang was laid to rest over 2,000 years ago. Marvel at the thousands of life-sized terra cotta warriors, archers, infantrymen and horses provided to accompany him into the afterlife. After lunch, fly to Beijing, China's imperial capital whose rich history dates back more than 3,000 years. Check in to your hotel.
Day 17, Apr 10: Beijing
Travel to the Badaling Hills to walk the fabled Great Wall of China. Lunch in a local restaurant is followed by a stroll along the Sacred Way, a tree-lined avenue with massive animal sculptures guarding the Ming Tombs. This evening you can relax and dine at your hotel—or, enjoy an optional evening featuring China's famous Peking duck and a recital by performers from the world-renowned Peking Opera.
Day 18, Apr 11: Beijing
This morning visit Tiananmen Square, built to accommodate over 1,000,000 people. Then, tour Beijing's mysterious Forbidden City, completed in 1420 and off limits to visitors for 500 years. Explore its pavilions, courtyards and gardens. After lunch, walk among the elegant buildings and landscaped grounds of the 700-acre Summer Palace complex. Tonight, enjoy a farewell dinner of local specialties.
Day 19, Apr 12: Beijing
After breakfast, check out of your hotel and proceed to the airport to continue your China journey with an escorted land program that includes 3 nights in Hong Kong and 1 night in Guilin. Sightsee and shop in Hong Kong, then enjoy a relaxing day along Guilin's scenic Li River.
Post-Extension: Hong Kong & Guilin
Day 19 continue, Apr 12: Guilin (Hotel: Sheraton Guilin)
After lunch in Beijing, fly to Guilin where you are escorted to the first class Sheraton Hotel. Dine at the hotel and your evening is free to relax or take a stroll. Visit Elephant Trunk Hill and see Guilin's many beautiful pagodas lit up after dark.
Day 20, Apr 13: Hong Kong (Hotel: Kowloon Shangri-La)
After breakfast, board a small boat to see local village life along Guilin's breathtaking Li River. Then, take a walking tour of Yangshuo, an ancient stone village whose name means "Bright Moon." Next, fly to Hong Kong and check in to the deluxe Shangri-La Kowloo. Enjoy evening free time to get acquainted with the area; tonight's dinner is on your own.
Day 21, Apr 14: Hong Kong
Your half-day Hong Kong city tour takes you to the top of Victoria Peak; located on the western part of Hong Kong Island, this location offers panoramic views of Hong Kong's unique skyline. Travel around Hong Kong Island to visit the floating city of Aberdeen and take a sampan ride.
Take afternoon free time to further explore the island, do some shopping or take a short train ride to visit the Ten Thousand Buddhas Monastery in Shatin. Tonight, try one of Kowloon's fine restaurants for dinner.
Day 22, Apr 15: Hong Kong
You have a full day to explore Hong Kong on your own. Take a ferry across Victoria Harbor and visit other islands. Stroll Kowloon's unique markets or tour one of the city's museums.
Day 23, Apr 16: Hong Kong
After breakfast, check out of hotel and proceed to the airport for return flight home.
Flying is learning how to throw yourself at the ground and miss.Douglas Adams