你好(Ni ha)
Today we left Beijing and are now in Guilin which is surrounded by limestone hills. Our local guide said it is a very small city, only 800,000 people. When China opened its doors to the world in the late 1970's, tourists could only visit Shanghai, Beijing, Xi'an, and Guilin. At that time, Guilin had three cars and one hotel. The first year it hosted 1,000 visitors. Now, Guilin receives over 30,000 tourists a year and tourism supports one-third of the people living in the city.
Check out the photo of Tom and I with the Miao minority Chinese girl in our hotel.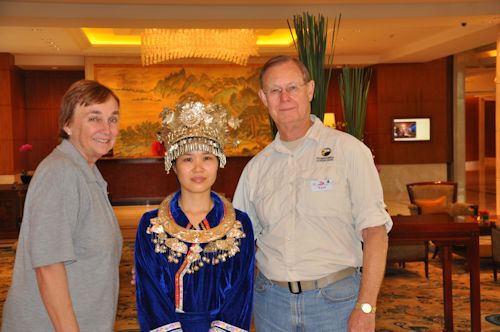 Interesting fact that is minority people in China can have as many children as they want. The rules are different for different people. No surprise there. Our guide is an only child and his wife is an only child so they can have two children.
The road from the airport to the hotel is a beautiful four lane highway. They don't need that but it looks good when the "big potatoes" visit. Everything is done for looks. Our local guide in Guilin pointed out a huge warehouse store where one buys all of the items to "decorate" you apartment. We have been curious about the "decorating" of your apartment, remember you only buy the concrete shell and put in all your own wiring, plumbing, etc. What if my neighbor buys the cheapest wiring possible and sets the whole building on fire. Or, what if my neighbor buys the cheapest plumbing in the world and he floods my apartment. Are there codes??? Well our local guide and Huang really didn't know or understand, so we figured, there are no codes. That means the top floor isn't good to live fire wise, and the bottom floors aren't good to live flood wise. Seems strange China has such a long ways to go considering they were such and advanced society.
Last night our group had an opportunity to go to a reflexology foot massage. That is where they use pressure points to cure what ails you. However, you are supposed to be able to tell the masseuse where you are having problems so they massage the right points. Well none of the people spoke English so everyone just got a massage. Tom and I opted out, had a nice glass of wine before dinner and had a fabulous buffet. They had pork ribs, ribs like you recognize, delicious. The food in China has been interesting and it will be nice to not have to ask, "What do you think this is???"
This morning we tour Guilin by boat on the Li River. Then this afternoon we take a flight to Hong Kong arriving late tonight. When the British turned Hong Kong over to the Chinese it was under the condition that nothing would change for fifty years. So Hong Kong is still on the Hong Kong dollar not the Chinese Yuan, it is still a duty free port, English is the official language, they drive on the left side of the road and we have to go through immigration when we arrive just as if we were going to any other foreign country. We can tell the trip is drawing to a close because clean clothes are at a premium and it is getting tougher and tougher to find room in our suitcases for all of our must have purchases and we haven't even hit Hong Kong yet, the shopping capital of the world.
Nobody can experience our lives for us.Charlotte Joko Beck
Confucius say . When you know a thing, to hold that you know it; and when you do not know a thing, to allow that you do not know it – this is knowledge.
再见 (Zaijian)
More to Follow
Tom & Holly