Alaska: May 24 - June 9, 2013
The most interesting way to explore Alaska aboard a genuine National Geographic expedition ship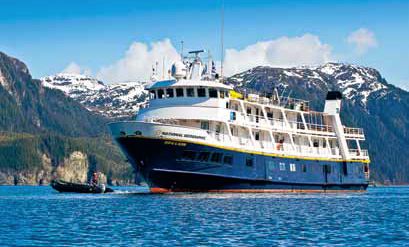 Our intimate, 50-guest expedition ships are perfect for exploring where larger ships cannot go. Each bow accommodates all guests at once, so they can share the best view and all the thrills of every sighting—whales breaching and feeding, glaciers crashing and bears foraging along the shore—plus, hear the insights and commentary
from our expedition team. The decks of our ship are also one of the best shooting platforms imaginable for nature photographers. Our ships are equipped with cool tools, too, that give you more ways to connect with nature, including a fleet of eight solo and 12 double kayaks and five Zodiacs. Board a Zodiac to draw closer to glaciers with a naturalist, or paddle a kayak into a quiet cove for a more personal, water-level encounter with wildness. A Splash-Cam and hydrophone allow us to peek and listen beneath the waves, and an undersea specialist shoots video on dives that reveal
the mysteries of the deep.
Itinerary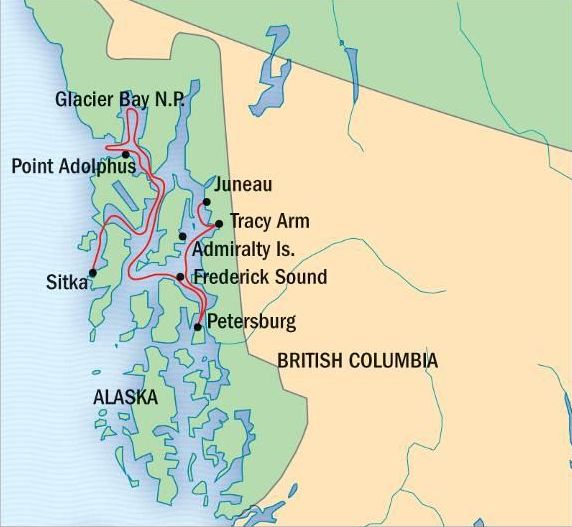 DAY 1: Fly to Seattle (Seattle Airport Marriott)
DAY 2: Fly  Seattle to Sitka, Alaska - Embark Ship
Our Forest Service Special Use Permit for Tongass National Forest enables you to hike and kayak in wild and remote areas of Southeast Alaska.
Take an early afternoon flight from Seattle to Sitka, southeastern Alaska's only oceanfront town. Sitka has a strong Russian heritage, which is readily apparent as you visit the onion-domed St. Michael's Russian Orthodox Church. Gaze up at the grand totem poles that line the wooded trails through Sitka National Historic Park. At the Raptor Rehabilitation Center, we have close views of species normally seen at a distance in the wild — bald eagles, hawks, falcons and owls. 
DAY 3: Southeast Alaska's Islands, Bays and Fjords
Today, nature is our guide as we set forth with the flexibility to take advantage of wildlife and weather conditions. We may stop at an isolated beach to take a closer look at tide pools, beachcomb, and hike stunning forest trails. Keep an eye out for old bear tracks worn into the soil as you move from forest to meadow. This area is home to the highest density of nesting bald eagles in the world, so sightings are very common. If conditions permit, we'll do some kayaking, always watching for marine and terrestrial life.
DAY 4: Glacier Bay National Park
We spend the entire day amidst the coves, fjords, tidewater glaciers and majestic mountains of Glacier Bay National Park. You'll see glaciers that end abruptly at the water's edge and observe them "calving" — tons of ice crashing into the sea — accompanied by an exhilaratingly thunderous sound. Mountain goats scaling the peaks as well as harbor seals, Steller sea lions and puffins are some of the creatures we may observe. A visit to Tidal Inlet may bring the sight of brown bears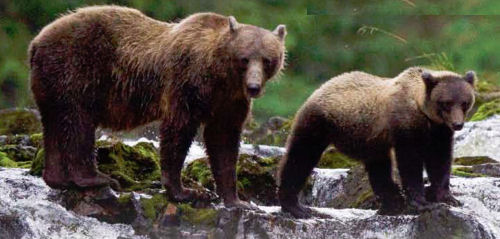 lumbering up the hillside. A native Tlingit interpreter joins us onboard to share the legend of the area.
DAY 5: Point Adolphus and Inian Pass
Hike, kayak and search for whales in the waters off Point Adolphus, a favored feeding area for humpback whales. Keep watch on deck with our marine mammal experts. Under the right conditions, we'll lower the ship's hydrophone to listen in on the whale's communication. After some thrilling whale watching, we'll cruise Inian Pass in search of playful sea otters.
DAY 6: Frederick Sound and Chatham Strait
These waters are prime areas for both killer whales and humpback whales. It's not uncommon to observe their fascinating behavior — breaching, tail-slapping and variations on feeding — as we fill the deck and listen to the play-by-play from our expert naturalists. We'll explore spectacular bays and inlets, following bear trails and salmon streams. Once ashore, we'll have the opportunity to walk along a quiet forest trail. The still waters are excellent for kayaking, offering another option for up close exploration.
DAY 7: Petersburg
Search for humpback whales as we head towards the small, true Alaskan town of Petersburg on Mitkof Island. Explore a unique Southeast Alaskan ecosystem, the "muskeg," with stunted trees and carnivorous plants. There is an opportunity for optional flightseeing or bike riding.
DAY 8: Tracy Arm
This morning, we enter Tracy Arm/Endicott Arm, a spectacular fjord, with waterfalls cascading from its glacially carved walls. We'll also pass the Sawyer Glacier, which has been described as bluer than any blue on earth, or the towering Dawes Glacier. If conditions permit, we'll use our Zodiacs to provide unparralelled up close views of the glacier. Keep an eye out for harbor seals and porpoises, Arctic terns and Bonaparte gulls.
DAY 9:  Juneau/Disembark Ship Fly to Fairbanks
After breakfast we disembark in Juneau, stop by the Alaska State Museum for an artful introduction to this unique state. We also visit Mendenhall Glacier, set in the dramatic Mendenhall Valley, located just 12 miles from downtown Juneau. After our visit, we'll drive to the airport for our afternoon flight to Fairbanks.
Arrive in Fairbanks, transfer to your hotel and settle into your river view cabin at Pike's Waterfront Lodge. This evening meet your leader and traveling companions at a welcome dinner.
DAY 10: Fairbanks / Denali National Park / North Face Lodge


In the morning visit the University of Alaska Fairbanks Museum featuring collections that represent over 11,000 years of cultural traditions in the North. In the late morning we depart on a wilderness drive to our temporary home located within the heart of the park, the North Face Lodge. We'll travel in the lodge's private bus, on the otherwise highly restricted Denali Park Road, in order to access prime wildlife viewing areas; a privilege extended to the owners of North Face Lodge and their guests. The seven-hour, 90-mile drive is rife with opportunities to look for Denali's famed wildlife: grizzlies, caribou, moose, Dall sheep, wolves, eagles, Arctic terns and more. We'll enjoy a hearty, picnic-style dinner, served at the midpoint of the drive alongside the East Fork River. Regular bathroom stops at National Park Service facilities provide additional chances to stretch your legs. The 90 mile, 7 hour trip travels on a winding dirt road to the "end of the road" - less than 1% of park visitors are able to go beyond the first 18 miles.
DAY 11-14: Denali National Park / North Face Lodge
Immerse yourself in the remote wildness and north-country charm of the North Face Lodge, and become one with nature. See Denali's rich wildlife, flora and fauna firsthand and learn about its natural history during the daily activities of your choice – hiking, canoeing, fishing and biking. Hiking is among guests' favorite activities, as the lodge offers exclusive opportunities to hike with trained naturalist guides in the protected wilderness backcountry of Denali National Park. Optional flightseeing offers breathtaking aerial views of Alaska and is available at an additional cost. Days wind down with nightly presentations by the fireplace that focus on various aspects of Denali's natural and cultural history, including birds, mammals, wildflowers, tundra ecology, geology, mountaineering, land use and natural resource issues. Rest well in lovely, comfortable rooms and enjoy delicious meals featuring fresh baked goods and locally-grown produce throughout your stay.
DAY 15: Leave Denali National Park - Train to Anchorage
This morning we depart the North Face Lodge and enjoy the scenic drive back out the park entrance. Continue to experience the grandeur of Alaska aboard the Alaska Railroad, enjoying the first class, GoldStar Service en route to Anchorage. Lavishly appointed cars feature custom-designed interiors highlighted with original Alaska art and a private outdoor viewing deck. Dinner will be served on board the train. Overnight at the Anchorage Hilton Hotel.
DAY 16:  Fly Anchorage to Seattle (Seattle Airport Marriott)
Transfer to the airport for flight to Seattle.
DAY 17: Fly Home
Every step of the journey is the journey.Zen Saying