Links to video slide show of Africa
Part 1 – Trip over, Nairobi, Elephant Orphanage, Karen Blixon house, author of "Out of Africa", and Masai Mara with the Wildebeest crossing the Mara River on the start of their return to Serengeti during the Great Migration. 1.5 million Wildebeest migrate each year from the Serengeti to Masai Mara and back, an 1800 mile journey and about 250,000 don't make it.
Part 2 – Amboseli. Hot Air Balloon Ride at the foot of Mt. Kilimanjaro, Breakfast in the Bush, Tarangire, Ngorongoro Crater, and Olduvai Gorge.
http://www.youtube.com/watch?v=PqthMDNzEgE
Part 3 – Serengeti and the return of the first Wildebeest to the Serengeti at the end of the Great Migration. We saw close to 300,000 Wildebeest returning on our last day in the Serengeti.
http://www.youtube.com/watch?v=-vVYoy_VjDc
Jambo – (Swahili for Hello)
Once again we find ourselves in the Delta Crown Room at the Orlando Airport drinking Bloody Mary's and munching on snacks as we kill time awaiting to board our flight to Atlanta, which is followed by a three hour layover, an 8 hour flight to Amsterdam, a 2 hour layover, and then a 9 hour flight to Nairobi, Kenya. This is where our next adventure begins as we continue to whittle off places in Holly's book "1000 Places to See Before You Die."  We are rapidly approaching the midpoint of the list. After  spending 19 of the next 24 hours in the air, and an 8 hour time change we will be arriving at the Nairobi Safari Club at 7:30 pm tomorrow evening ready for a cold African Beer for me, a glass of African White Wine for Holly, and a comfortable bed for the evening. We are spending an extra day in Nairobi to adjust ourselves to the time change before visiting 5 different game reserves in Kenya and Tanzania, including a hot air balloon ride over the Masai Mara Reserve followed by a champagne breakfast in the bush. The tour company we are going with is the same one we did the Amazon with and limits the group to 18 or less, with no more than 6 people and a Naturalist Guide per open roof Land Rover, so everyone has a window seat. The opportunity for pictures should be fabulous. 
In Kenya and Tanzania we will be staying at Lodges, Hotels and Tented Camps. Before you feel too sorry for us staying in tents the following is a description of the tented camp from our documents: "The Serengeti Mobile Tented Camp gets you closer to Africa's great herds as you spend nights under canvas, positioned so you stay where the wildlife is most abundant. The exclusive site features large walk-in tents — each serviced by a butler — with en suite facilities, king size beds with some of the most comfortable linens you've ever slept on and verandahs, where you can relax under the sapphire sky." I think the butler's job is to bring us Gin and Tonics on our tent verandah so we don't get Malaria (it's the quinine in the tonic – at least that is what we told ourselves in Vietnam).  He also fills the en suite shower reservoir with hot water when "Bawana" is ready to take a shower. The sounds at night should be eerie and awesome.
As with our past trips we will be keeping a daily travelogue of our activities to help us organize our pictures and thoughts when we return home. Those of you who have seen the books Holly puts together after each trip understand the importance of the daily log. It will be obvious which e-mails I write and which e-mails Holly writes, mine are nonsensical while Holly's have "some redeeming social significance". As always, if our e-mails start to get too boring please use the delete button or e-mail us and we will take you off the list. We have added some new e-mail recipients this trip. Please feel free to e-mail us with questions or comments at anytime. During this trip we plan to send almost daily e-mail travelogues of our adventures when internet availability permits.
If everything goes as planned the next e-mail should be from the Nairobi Safari Club after a good night's sleep and a visit to the Daphne Sheldrick Elephant Orphanage, where sick and abandoned elephants are cared for before being released back into the wild. After that we are going to the Karen Blixen Museum, where the author lived and wrote "Out of Africa" and then lunch at the Carnivore, an open-air restaurant where meats are roasted on tribal swords. Of course we watched the movies "Out of Africa" and "Hatari" as a precursor to this trip.
"As you begin to pay attention to your own stories and what they say about you, you will enter into the exciting process of becoming, as you should be, the author of your own life, the creator of your own possibilities." – Mandy Aftel.
Kwa heri – (Swahili for Good – bye)
More to Follow
Tom & Holly
We arrived at the Nairobi Safari Club at 9:30 pm local last night, 1:30 pm Florida time. We didn't know whether to eat lunch, eat dinner or go to bed, so we had a couple of cold African Beers, which were really quite good, and slept like a restless baby. The flights over were uneventful, watched 5 movies and landed in Kenya feeling like our rear ends were super glued to an airline seat. On the flight from Amsterdam to Nairobi we flew on the upper deck of a Boeing 747.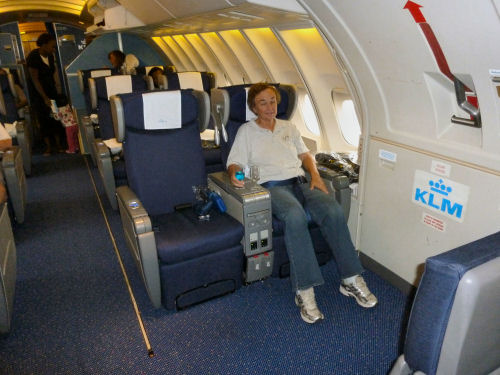 This is the first time we have flown in the upper deck and it was really cool. There were about 20 seats, 2 stewardesses, and 2 restrooms and it felt like we were in a small private airplane. You can see by the picture I posted that we had plenty of leg room. One of the Dutch stewardesses spends a lot of time in Nairobi so we asked her about walking around sight seeing after we got to the hotel. She told us that if we went out at night we would be mugged, not might be, but would be. I guess with our complexion we sort of stand out, even with my Florida tan. She said when she goes shopping, she hires a local to go along and carry her bags and keep people away from her. After talking to her, I couldn't talk Holly into going clubbing. In the hotel, we met some more of our group and their taxi cab driver told them the exact same thing about the safety of this city.
Nairobi is the capital city of Kenya with a 4 million population and obviously because it was an English Colony is heavy on the English influence including driving on the left hand side of the road. Everyone we have come in contact so far have been extremely friendly but of course they have all been in the service industry. I just took a shot of "5 Hour Energy Drink" Holly is taking 5 in a chair and we are about ready to go off on our first day of absorbing the local culture.
Blessed are the curious for they shall have adventures. Lovelle Drachman