Well we feel a little news deprived. The earthquake in Japan was so traumatic and we have only heard bits and pieces. We will have to catch up a bit in the hotel tonight. When we heard about it on the ship our captain assured us he had already been in contact with authorities, and we were not going to be affected in the least. Lindblad headquarters contacted all of the emergency contact number we passengers had given which was nice to know. When the captain told us this would be done, I sort of thought, "Yea that is going to happen." When it did, we told the captain that we were impressed and Lindblad went up in our opinion.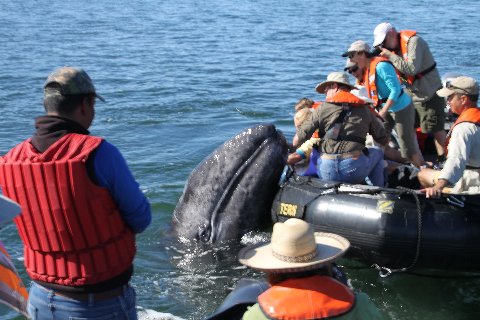 Yesterday was our last outing with the gray whales. They were more interested than the previous afternoon, but not like the first morning. But then all of a sudden there was a baby just for me, and we had quite a time.
We quickly learned that the best photos came from the zodiac across from you. We had the super photos of a couple touching one of the whales. Later in the lounge, we saw them and gave them the photos. They were most appreciative. A few moments later one of the ship's naturalists gave us the photo of the whale that tried to ride with us, and then another person gave us the photo that you saw of Tom and the whale. This is truly one of the most gregarious groups of people we have ever traveled with.
This was also a scientific expedition. One of the naturalists plotted our two blue whale and humpback sightings giving the latitude and longitude of each. He then emailed the info to a research center. Very interesting.
The food on the ship was really good. Some of the best of any of our expeditions! I must admit I won't miss the bathroom on board which had the shower and toilet combined as one unit. Not the best let me tell you. Well you can't have everything. Tom mentioned to some people that out tent bathroom in the Serengeti was bigger than our entire cabin on this ship. Overall a good experience.
The man who views the world at 50 the same as he did at 20 has wasted 30 years of his life.Muhammad Ali