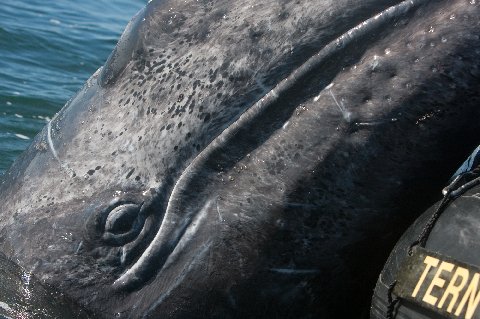 Yesterday at our gray whale lecture, they kept telling us that we may not have an opportunity to actually touch a gray whale even though the brochure shows that happening. Of course, that is why most of us came on this trip. We all agreed, ok, I will be happy if I can just be close to them.
This morning the announcement came again, remember you may not be able to actually touch the gray whales. The ship's four zodiacs then went out – eight to a zodiac plus the Mexican escort and zodiac driver. We also had the ship's video camera man. We had only gone about five minutes and there they were. We were looking for mom and baby pairs. It is the mom who is looking for a babysitter, so she can rest some and someone else can entertain baby. It was two solid hours of whale emersion. They feel like sponge. What can I say about this experience except, "Absolutely Incredible!" I think that is my usual quote. Our zodiacs were moved around and bumped by the whales. They could have easily turned us over but they were so gentle. We learned at our lecture that the whalers used to call the gray whales, "devil fish." When the baby was harpooned, mom would attack the ship and many whalers died as a result. As humans started to change their attitude towards whales; the whales changed their attitude towards us. Mother whales now encourage the baby's interaction with the zodiacs. We also learned after this amazing experience that last year it was very difficult to find whales, so again, I guess we were blessed. Our ship's naturalist told us last year she would go out for two hours and see nothing.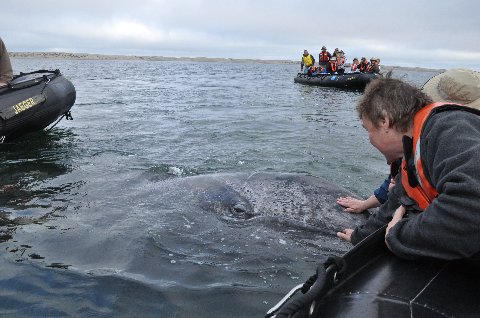 Interesting trivia. The Mexican government regulates the number of boats on the water who can interact with whales. Our ship pays the Mexican government a hefty price. That is the reason for our Mexican guide. He is a fisherman the other months of the year and has no problem taking endangered fish, shark fins etc except during this time of year when tourists come to see the whales. So not only did we have this fabulous experience, we are giving the bay's other creatures time to multiply. Our Mexican guides are very happy to have us because they earn more than half of their year's salary from whale watching tourists.
This afternoon we went out for a second whale watching experience and yes, they were right. Although we saw many mom and baby pairs none were interested in us petting them. One whale pair was heading the opposite direction from us as fast as they could go. Our guide told us that moms exercise the babies to prepare them for their long journey back north. Also they will have to be in good shape to defend themselves from the orcas that are out side of the bay waiting for them. It is felt that one reason they come to the bay to calve is that it is very shallow water and orcas won't come in shallow water. They could but just choose not to. This afternoon made this morning all the more special.
This evening we are having a Mexican fiesta with local entertainment. We have had a lot of great Mexican food on this trip. They feed us well – maybe too well.
P.S. The Tsunami from the earthquake in Japan is only going to cause a ripple effect for us.
The less of a routine the more of life.Amos Bronson Alcott