Day 21 – Sydney
G'Day Mate How You Going? 
   Yesterday, we toured Sydney to get a general idea of the city layout. Sydney, so far is a wonderful city, lots of activity, lots of security everywhere you look. Our guide told us many times that it was safe to walk anywhere she showed us in the city.
    Last night Tom and I walked past Circular Quay down to Campbells Cove which overlooks Sydney Harbour.  What a busy, fun place to people watch. We ate dinner at a place called Wolfies which sits right at the harbour's edge. We knew we had picked at great restaurant according to the locals as they had four wedding parties there last night. There is a huge up stairs section where the wedding parties where held. What fun watching all of the people come in dressed to the hilt, with the camera man from each wedding taking photos for the bride and groom along the water's edge and other various places. Yes, love is alive and well in Sydney.  Plus every table in the restaurant was full when we left. The only reason we had such a great table right near the water was because the table was reserved for 7:00 and we got there at 5:00. They told us if we could eat in two hours we could sit there so we did.
     Today we toured the Sydney Opera House. Wow is all I can say. It has six to different theaters and each one has a special purpose. The tour lasted over an hour. I won't go into all of the details here but it is truly an amazing story.
      Our guide was a great story teller and this is one of the best stories. The director of the opera Boris Godunov was into realism as much as possible. This was common as I remember taking Marcy to her first opera Aida in Omaha and they had real elephants and tigers. So the scene called for real chickens and there was about 35 of them. Someone in the front row took a flash photo of the chickens, frightened them sending all of the chickens toward the light and falling into the orchestra pit and landing on the violin and cellist sections during a performance. The startled performers threw the chickens out of the pit and the panicked chickens landed on the first couple of rows of the audience, which were the most expensive seats in the house. The terrified chickens started crapping all over the place leaving a real mess, thus the installation of the net in 1980 protecting the orchestra pit plus there have been no more performances using live chickens.
    After our tour we went to circular quay and took a ferry ride which included lunch. The weather was perfect and it was a lot of fun to be a part of the busy harbour. It was a most relaxing and pleasant afternoon.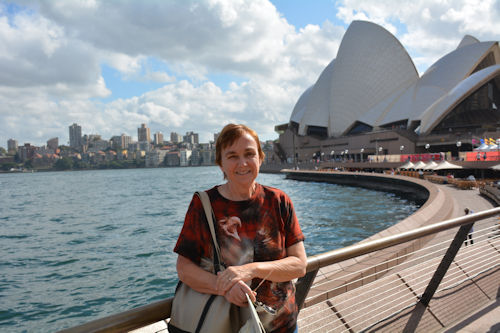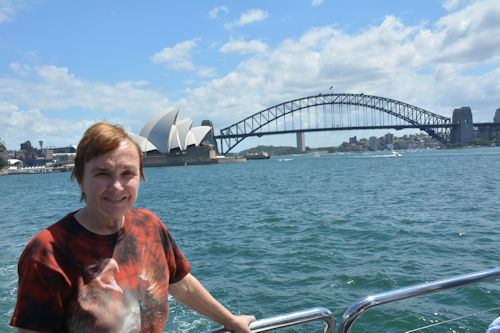 "I have learned this strange thing, too, about travel: one may return to a place and, quite unexpectedly meet oneself still lingering there from the last time." – Helen Bevington
Hooroo,
More to Follow
Tom and Holly