Day 16 – Melbourne
We are alive and well. Tasmania is the Bermuda Triangle of internet; once you enter internet connections are gone forever. The Tasmanian Devil must have eaten all the satellites, the ship was in a geographical dead internet zone in Tasmanian Waters for the past 96 hours! We have since learned that every ship in the area has lost internet service. We are now in the hotel in Sydney and back to the land of internet. Days 17 – 19 will follow.
G'Day Mate How You Going?
            At exactly 8:43 am February 23, 2016 Australian Time we cleared Australian Immigration and can now say we have stood on all seven continents since 2004. This completes one of our many items on our bucket list, and we will drink Champagne tonight in the Pinnacle Grill to celebrate. 
Once on every cruise, Holland America converts the Pinnacle Grill, which is a specialty restaurant with a supplemental charge to "An Evening at Le Cirque" making the Pinnacle Grill an even more specialty restaurant with a larger supplemental charge. Le Cirque of New York City is ranked among the best restaurants in the world, famous for its celebrity clientele. This event is so popular it sells out weeks before the cruise, but we were fortunate enough to book it months ago and got a great table for two by the window. The menu is planned in coordination with Le Cirque head chef. We started the meal with a gelato paté to cleanse our pallets. Then onto the first appetizer which was escargot with crispy gnocchi; then a Caesar salad like I have never had before. The dressing was to die for and it came with a pretty poached egg on a bread ring. For our main meal we both had rack of lamb, and it came with a patty of lamb shoulder. I am going to have to research how it was done. The meat just fell apart and was so tender but looked like it had been molded into a cylinder and then put into its own special covered crock pot. It is kind of hard to describe because I have never had anything like it before. But one thing I know, it was delicious and Tom and I both ate the entire thing. Le Cirque crème brûlée was for dessert.
 Today's tour was in Melbourne and we drove out into the savannah grasslands, the Serendip Sanctuary to look for wild kangaroos. The sanctuary actually raises endangered birds but the land is so expansive, 227 hectares; so that is why many wild animals choose to call it home as well.  We walked out along a billabong (watering hole) to look at wild magpie geese; but to our guide's surprise, we saw a swamp wallaby. Looked like a kangaroo to us.  I am so glad we did. He was standing very close to the trail and stayed there for quite a while.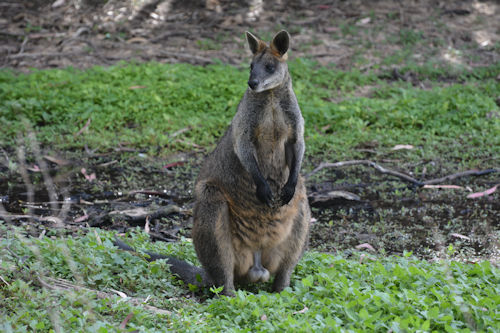 Then we went further out onto the grasslands and did see several wild kangaroos. First there were two very large males who gave us quite a show. Then we saw a group of females, but they were more skittish and were a little harder to see. I was surprised how large these animals were. I will have to research what type of kangaroos we have at our local zoo because ours look about a third of the size.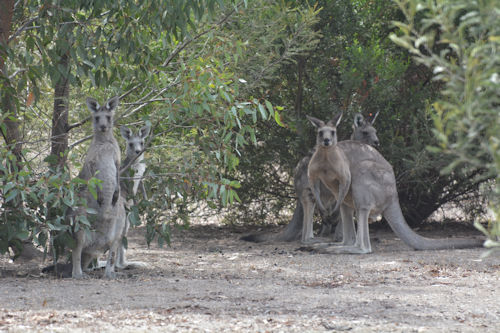 We asked about aggressive animals we should look out for while on our hike. Well any of you who have read our Amazon adventures can guess, yes ants. We passed a huge nest of meat eating ants. They were very hard to see and if our guide had not pointed them out, I would have never seen them even though they covered about a five by ten foot area. They just cover their mounds with very small pebbles, so it just looks like the trail we were walking. If you put a dead kangaroo on top of their nest at night, in the morning there is nothing left but the skeleton picked clean. Then there is a black bulldog ant that is about an inch long. She said if we do see one don't stop to take a photo because while you are standing there about ten will attack you for the back. They can bite and sting at the same time and are very aggressive. We did not see any of these guys, thank goodness.
 Then we drove out into the You Yang National Park to look for koalas. They are doing quite a lot of research on these beautiful, charismatic, marsupial animals as they feel that within fifty years they will become extinct. Of the eighty different species of eucalyptus trees, koalas only eat thirty different species. They also are very particular about the footing under the trees. For example there is a weed growing in several areas and koalas won't inhabit trees surrounded by these weeds. The koala's territory is about 200 trees for one koala.  Clearing the land of the weeds has proven quite effective in increasing the koala's chances of survival. Unfortunately we didn't pull any weeds today because it was too hot, and we already had one lady struck with heat stroke watching the wild kangaroos.  If a koala is injured they do capture it and treat it. Once well, it is released back into the wild.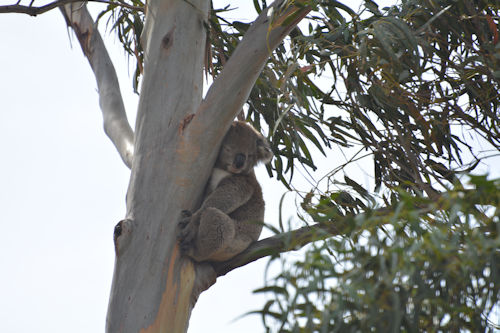 We also saw emus. They look like ostriches. We saw Australia's largest eagle, the wedge tailed eagle; two tawny frogmouths, a type of owl; and lots of Sulphur cockatiels.
  It was a great trip. Tomorrow we go to Burnie Tasmania.  We will visit the Trowunna wildlife Park and see the Tasmanian devil and maybe hold a baby wombat.  We are looking forward to that.
"You have to take time to live. Living takes time." – Eleanor McMillen Brown
Hooroo,
More to Follow
Tom and Holly