Day 8 – Napier
 Pohiri – (Maori Welcome)
    Napier is considered an art deco city because it is now completely rebuilt.  It was completely destroyed by an earthquake in 1931 and a fire completely destroyed the rest of the town.  Two hundred and fifty people died which is the largest disaster in New Zealand history. So as you can see New Zealand is a relatively uneventful place to live. Not that 250 is not serious, but considered to tragedies you hear about it in the rest of the world, it is pretty tame.
    Tom and I decided to go white water rafting as it is one thing we have never tried before.  It was a lot of fun. The scenery was beautiful. Our guide was so good we all ended up acting like we knew exactly what we were doing. Of course, a couple, Audrey and Tony, we met from Merritt Island, Florida were experts. Audrey has gone down the Colorado River. They are lots of fun and who would believe you go half way around the world and meet someone who lives ten minutes from you.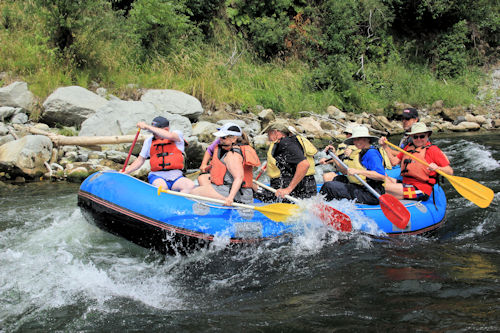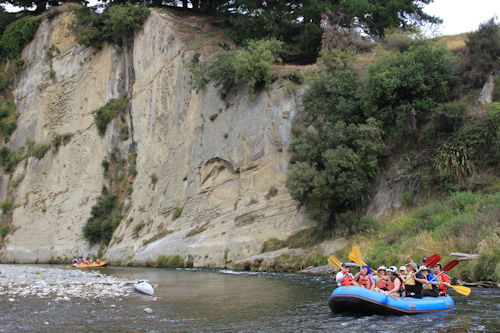 When you exit the ship, you are not allowed to take any food items with you and they are very serious about it.  The day before they had a lab that sniffed all the bags people were carrying. She was super fast. There five of us walking in a group and she immediately ignored four of us and quickly indicated this one fellow by sitting happily, wagging her tail, and looking at her handler. Yep, he had food in his bag.  Yesterday they had people searching each bag. It took ten times longer for us to disembark the ship and would have been easy for food items to slip by. They should have had a sniffer dog.
   New Zealand is also serious about you taking a government photo ID with you. A security guard enters the bus as you are about to enter the port and you must show them your ship's card and your government ID. Yesterday two people from Asia, probably didn't understand English that well, did not have an ID with them. They were escorted off the bus and taken to the ship in a police card. Our guide joked after they were off the bus, that they would get on the ship before us. However, I doubt they got to their rooms before we did. I bet they bring photo ID today when they disembark.
 "As you grow older, you'll find that the only things you regret are the things you didn't do."  – Zachary Scott
  Hooroo,
More to Follow
 Tom and Holly